Joanne Tachibana UNA-USA Hawaii Division Greetings for the New Year 1999- "The Year of Older Persons." There are only a few hundred days to the new millennium, what an awesome event it will be to greet 2000! I am looking forward to a steady growth in our division's membership and creative programs for our members and community. Fortunately, in 1998 the Governor designated Attorney General Margery Bronster as Honorary Chair for our United Nation's Day celebrations. She and the staff were most supportive and contributed to the success of the programs. (see photos)

Letters to national organizations within the Council of Organizations (NGO'S) with local chapters in Hawaii were sent out to introduce the UNA-UDA Hawaii Division. New co-sponsorships were fostered through this effort. We acknowledge the 50th anniversary of the Universal Declaration of Human Rights in many ways: The August congressional forum on international issues was a tremendous success and laid the groundwork for one in Election Year 2000! (see photos) The October annual dinner held at Washington Place was an evening to remember- (see Dinner highlights) December Human Rights Day celebration at the Civic Center Grounds was a collaborative effort with the Human Rights Education Coalition.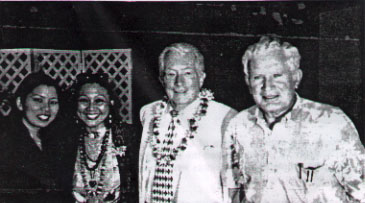 MEMBERSHIP!
Please invite your friends to join us. DIANE SANTIAGO joined our board to coordinate educational activities in our elementary and high schools. We also welcome student members to our division and look forward to their continued participation. (see form)
FUNDRAISING!
We need your help to raise funds for activities and sponsorships. Please let me know your ideas and suggestions! Reach me at 487-8148 or 523-4369. I look forward to working together with all of you. Mahalo for your support.